Mesa Shopping Malls and
SE Valley Destinations
What's America's favorite pastime? Shopping!
Mesa shopping malls and SE Valley destinations are a fun way to spend time. Shopping is a big part of living the good life. You earned it.
Shopping is exciting like watching baseball and you can do it all year long.
Mesa and the SE Valley used to be considered a sleepy bedroom community.
A giant suburb of Phoenix.
Just row after row of tile roofs in between freeways.
Well…
The SE Valley is now a shopping destination.
Why? Read on…
Here's what Mesa, Tempe, Gilbert and Chandler have going on right now.
Mesa Shopping Malls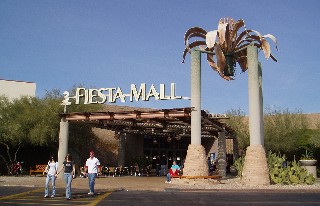 Fiesta Mall Mesa AZ (closed now)
There are two indoor Mesa shopping malls. You have in the west the Fiesta Mall (closed now). In the east there is the Superstition Springs Mall.
Down south is the Chandler Fashion Mall. Check out the luxurious Chandler Fashion Center that is located off the Price Fwy and W Chandler Blvd.
Tempe Shopping Mall

Then there is the giant outlet mall called Arizona Mills in Tempe. It's so big they mark each entrance so you can find your car when you eventually leave. It is located where the Superstition Fwy (60) and the Maricopa Fwy (10) intersect. Happy bargain hunting!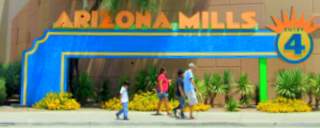 Arizona Mills Mall

What about outdoor malls?
One of the newest mega Mesa shopping malls is the Riverview outdoor shopping mall. What makes the Mesa Riverview remarkable is the Bass Pro Shops. The Bass Pro Shops Mesa is a stunning bacchanalia of outdoor recreation.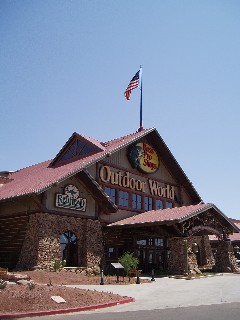 Bass Pro Mesa
Don't feel left out if you live in the east part of Mesa because there is another outdoor recreational store that is called the Sportsman's Warehouse.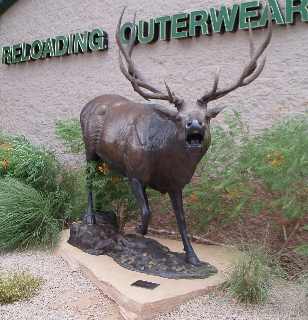 What about the outdoor mega-strip malls? For example, take a look at the Dana Park Village Square at Val Vista and the 60. It's like a giant 70 acre strip mall with super-spiffy stores framed with rows of date palm trees.
Dana Park Village
Just love going into AJ's Fine Foods at Dana Park Mall in Mesa AZ. Next time you're feeling stressed out from the holidays you can get a complete holiday dinner prepared for you. Just warm it up. Try it out next time you have a party. They will make a great feast for your in-laws and "out-laws" next Thanksgiving or Christmas. We tried the Beef Wellington dinner and the food was terrific.
Some stores in the village may be a bit pricey but walk inside and you'll think you are in Beverly Hills or Newport Beach…
AJs Fine Food at Dana Park
Then there's the upscale outdoor mall called the SanTan Village. It's located just off the SanTan Freeway and Williams Field Road in Gilbert. The window displays will make you think you're on Rodeo Drive in Beverly Hills except there is good parking and the people are nicer.
Shopping can be cheap too.
For the price conscious shopper, think of the places like Wal-Mart. You won't believe how many Wal-Mart Supercenters there are in Mesa. You might guess there are a few but the answer is six! Gilbert and Chandler have two each.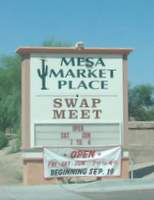 Then there's the bargain shopper bonanza at the east Mesa Swap Meet.
You can spend most of a day looking for bargains on the 55 acre paved lot of the Mesa Marketplace.
It offers brand new products, hand-made crafts and used items.
They have room for up to 1600 vendors under a spacious metal roof so all of the booths are shaded. So happy hunting!
How about remarkable local stores?

Some Mesa shopping destinations are tiny and known only to locals. For example, if you want the best tasting, freshest fruit, and unbelievable prices then check out the farmer's market at the Superstition Ranch Market. No frills, just amazing produce.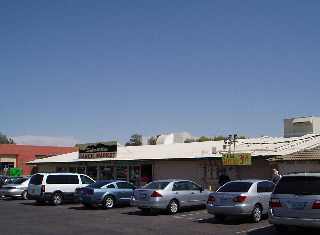 Superstition Ranch Market
Do you like fresh oranges and all kinds of tangy healthy treats? For the best tasting citrus on the planet go to one of the two stores that sell from local farms. They are called the Orange Patch and Orange Patch TOO: and their website is: http://orangepatch.com/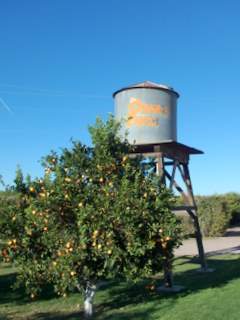 Orange Patch water tower
But wait, there's more!
More developments are coming in the southeast part of the valley. What's there you ask?
*There are tons of raw acres near the Williams Gateway Airport. The new freeways opened up the acreage that will be home to all kinds of new developments. The SanTan Village is a perfect example.
*There's the ASU Polytechnic Campus.
*And there are developments on the 5,000-acre General Motors Desert Proving Grounds. And more Mesa shopping malls coming soon to East Mesa.
---

Return from Mesa shopping malls and destinations to Mesa Goodlife