Superstition Ranch Market Produce Extravanganza
Think of the Superstition Ranch Market as a farmer's market. A place where you can get lots of great tasting fresh produce at nice prices.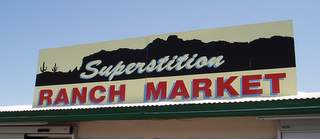 Ranch Market
When you think of a farmers market you think fresh and cheap. That's what you will find here. And no fancy extravagances. And lots of customers.
So the best time to come is off hours.
Even then the parking lot is busy, the store is busy, and the isles are crowded. It's all fun though because when you slice into the fresh produce and gasp at the prices you just won't want to go anywhere else for produce if you are in the neighborhood.
Superstition Farmers Market

We used to belong to a food co-op in L.A. where we donated a small amount of money and in return got some really great produce. A few of the adventurous would go to the produce market district in downtown L.A. and bring back boxes of produce that we'd split up at home. Trouble was the best stuff was gone by 5am.
So you had to get there at 4 am on Saturday morning. Sounds crazy but the adventures were memorable.
And you never forget the taste of fresh healthy produce.
This is the next best thing. And you can go in the daylight hours.
The downside is the location may not be close to where you live or work. It's located in a rather ordinary commercial area of Mesa on E. Main Street.
The closest landmarks are Banner Baywood Medical Center, Leisure World and the Superstition Springs mall.  See map at bottom of page.

Here's the story about how we heard of this place. A while back we had some guests over and somebody brought a watermelon. It was seedless and just about the best tasting watermelon ever. It came from this market.
Fresh Produce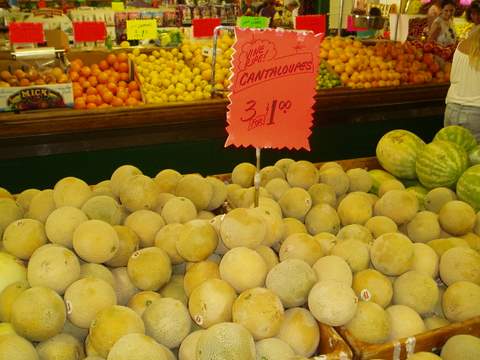 They say when you visit someone's home you should ring the doorbell with your elbow. Why? Because your hands should be carrying some kind of gift. Wine is fine and yet produce like a watermelon in the summer is delightful.

Where else can you find fresh produce? Want a suggestion?
If you like fresh zesty citrus fruit, you can have a delightful time checking out another produce market called the Orange Patch. You can get locally grown citrus that not only looks good, but tastes better than you can remember. That's because it is fresh. (Have you ever bought oranges that looked good but were woody and tasteless?) When they are out of fresh fruit in the summer, they are out until the fall crop.
The Orange Patch has a couple of nearby locations with sunny looking and fragrant citrus fruit. One of the markets is next to an orange grove right here in Mesa!

Superstition Ranch Market hours

The Superstition Ranch Market hours are 7:30AM to 7PM Monday through Saturday and 8:00AM to 5:30PM on Sunday. And the kind lady on the phone said the hours don't change during the seasons. The Mesa location is 4755 E Main St. between Val Vista and Higley. Phone (480) 832-3421 just in case the hours change. See map below for directions.
---


Return from Superstition Ranch Market to Mesa-Goodlife
Return from Superstition Ranch Market to Remarkable Shopping