Bass Pro Shops Mesa
WOW!
Bass Pro Shops Mesa will make you dream about outdoor adventures! This is the place where you can plan your next escape from civilization, dream of fun on your new party boat, or just grab some food at the fish restaurant.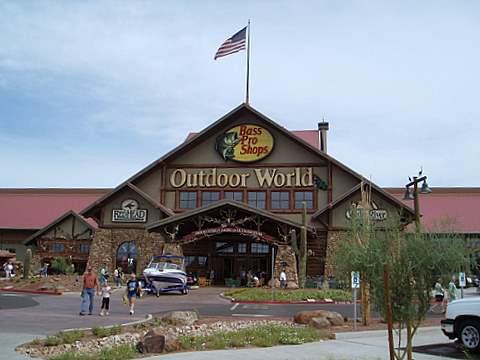 Bass Pro Shops Mesa, Outdoor World
From the moment you drive up you know it's special here. Even the parking lot is fun. Do you recall the cartoon characters in the parking lot at Disneyland so you could remember where you parked? Well here there are various animal silhouettes on the top of light poles.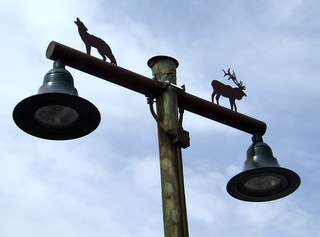 Walk in and you will be in a wonderland of all of the good things that you can imagine in the outdoors. And more…
It's more than a store.
It's a dream. It's a sportsman's paradise. You will want to start planning your next safari with your friends and family when you see the cool stuff in here.
Naturally there are the fishin' poles and equipment. Hey, it's called Bass Pro Shops Mesa for a reason. And very helpful employees will guide you with your selections.
Planning a tubing trip down the Salt River? They have water shoes and sunscreen and all kinds of things you didn't know you needed. Check out the shoe department, but watch out for the skunk.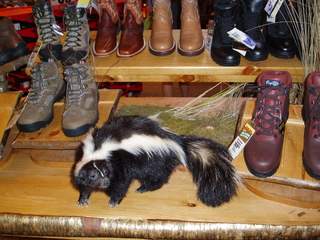 How did this skunk get into the shoes?
Right in the middle of the store is a giant fish tank with water falls. See if you can spot the coyote and mountain lion.
There's a whole section of boats and recreational vehicles too. You can walk up the stairs of one of the party boats and get all misty about a water adventure.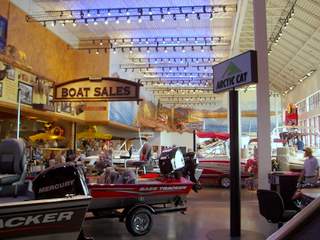 Boats of your dreams

It's more than a museum.


It's also set up for you to enjoy like a museum. Anywhere you look there are cool things to investigate. Look up at the walls and there are all kinds on animals and many have name plates. Kids will love to look at everything. Big kids too!

Bass Pro Shop Mesa is a school too.


You can signup for workshops and classes on all kinds of interesting topics. For example, learn the lore of fly fishing, how not to get lost in the wild, and wilderness survival. For you hunters, there are workshops like camo clothing, knives, and archery.
There even is a shootin' range. Test your skills, improve your aim and have a little fun with the kids.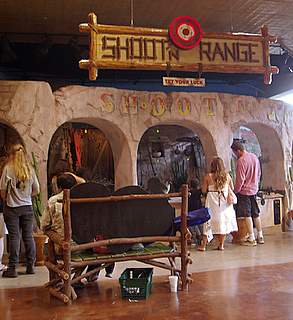 Shootin' Gallery

It's more than an art gallery.

The Mesa location has a "fine gun room" that is more like a museum. It is appointed with dark wood paneled walls. You will see some ornate shotguns that are art pieces and cost more than a car!
Here's a story of how unique guns can be.
A kind gentleman told us a story about one of their fine guns that recently sold. An artisan in Scotland crafted the gun by hand. And as luck would have it for the customer, the gun had just become available. This was no assembly line piece. It was art.
You normally have to wait up to 4 years for this level of craftsmanship. Why does it take so long to make a fine gun? They take your arm measurements and so forth to form the gun to fit your exact specifications, even the artwork is custom to your whims.

It's more than a restaurant

Then when you want to sit down and plan your next outdoor adventure over some food, you can duck into the Islamorada Fish Company. The fish restaurant is based on a Florida Keys theme. You can't miss a huge fish tank and some great atmosphere.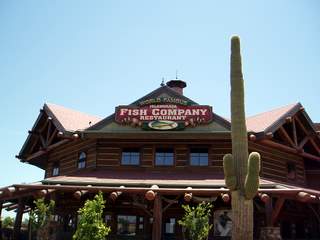 Islamorada Fish Company Restaurant
If this is the sample of things to come to Mesa we are in for some fine livin'. That's why we call it Mesa Good Life!
Now did I park under the deer and bear or was it a coyote and elk?
Where is Bass Pro Mesa?

Bass Pro Shops is located at 1133 North Dobson in Mesa right off the 202 freeway (602)606-5600. GPS coordinates are 33.4369ºN, 111.8671ºW.  Mesa website: click here (long). See map below:

---

Return from Bass Pro Shops Mesa to Mesa-Goodlife
Return from Bass Pro Shops Mesa to Remarkable Shopping