What's the Mesa Swap Meet?


Remember the Harry Potter movies? The Mesa Swap Meet is a giant bazaar where you can find custom items and the unusual. Kind of like the Diagon Alley shopping experience.
The swap meet is located in east Mesa just off the Signal Butte exit of the 60 Superstition Freeway.
If you have ever driven out to the Renaissance Festival you may have noticed some covered buildings with lots of parked cars off to the south on a giant paved lot.
A 55 acre lot.
It's huge.
The swap meet is one of the largest in all of Arizona so there is good selection and price competition.
The swap meet is on the Mesa Marketplace campus with room for around 1600 vendors. There are metal roofs for the booths with misters in the summer to keep you comfortable.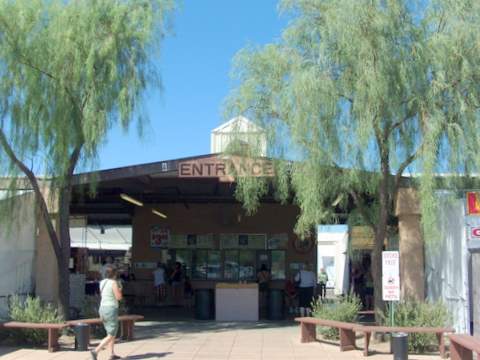 Swap Meet Entrance
It used to be in the middle of nowhere but is now surrounded by homes and a shopping mall.
It is pretty much like any swap meet you have ever been to. The one that comes to mind is in the town of Quartzite near the California border with the dirt parking lots and blowing sand and dirt.
Only the Mesa Marketplace has paved parking. And there is lots of free parking. Nice and clean.
And free admission.
And free live entertainment.
If the muggles and wizards get hungry there are some fast food places. You can get a breakfast or lunch including sandwiches and pizza. And even some live entertainment while you sit. There was a guy there with a guitar and was singing away next to the picnic benches.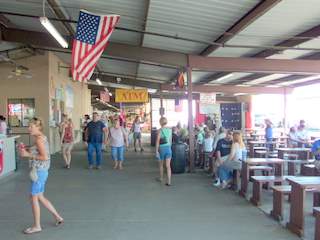 Snack Area with Live Entertainment
It feels safe too as we saw a Mesa policeman stationed on the campus. So you don't have to worry about any shady wizards like in Diagon Alley.
Take the exit off of Signal Butte on the 60 or Superstition Freeway and hang a right on Baseline. Then hang another right and you'll start your shopping adventure.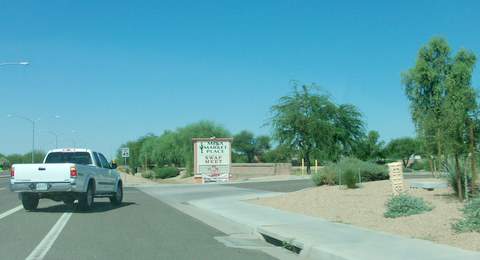 Driveway to the Mesa Marketplace

Mesa Swap Meet info

Phone (480) 380-5572. They are open all year Friday through Sunday 7 to 4 except during the hot months of July and August when they are closed on Friday.
See map for directions. See their website for more details: http://mesamarket.com/

View Larger Map
---

Return from Mesa Swap Meet to Mesa-Goodlife
Return to Remarkable Shopping