Discover THE BEST of Mesa Arizona and the SE Valley
"What can you do around Mesa Arizona?" What is remarkable?
The Southeast Valley of Phoenix Arizona has unique places to live and vacation. Enjoy the good life, in the middle of the desert!
Relatives or friends coming into town for vacation? Help your visitors find interesting things to do. There is a lot more than movie theaters and malls. Also some fun places to eat.
You can travel the world and miss all the cool things that are going on here. You can experience everything from Salt River rafting to Shakespeare plays. So look here for Fun, Food and stuff to do with your Friends!
Thinking of retiring? Like the idea of no snow in the winter and endless golf courses? Looking to move here?
The City of Mesa AZ and the Southeast Valley have homes ranging from safe, easy living senior RV parks to million dollar mansions.
What about vacation?
Where are the fun attractions, good places to eat, and hotels?
What's the weather like?
You will see sunsets that are so startlingly beautiful they look fake. Clouds that just pop out of the sky at you!
Arizona Sunset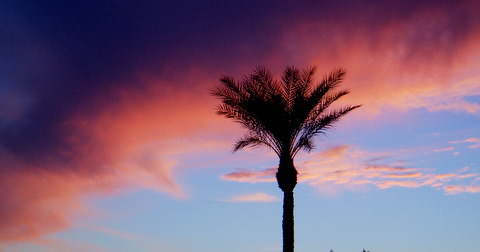 Picture this: it's nighttime in the summer and the wind is whispering through the palm trees. The lights are mostly off and it's time for a soak in your pool. The water is warm so there is no shock as you wade into the sparkling water.
Can you imagine floating on your back and enjoying the luxury of warm water as it washes over your body? You look up at the sky and see the palm trees shimmer with the stars peeking out of the clouds lit up from the moon. That's one way to handle the heat!
It gets better.
Have a Movie Night party in your back yard pool. Project the movie on the back wall for example. Put the popcorn in a bowl and float it on the water! The BBQ food goes on the edge of the pool. And turn up the outdoor speakers!
The other 9 months of the year we are the envy of the planet. Next time you see those cars stuck and sliding in the snow choked roads on the TV news just be thankful you are here!  
There is something magical about desert living in the shadows of the Superstition Mountains. There is something serene about the good life in the Southeast Valley. Something mysterious about the desert landscapes that were homes to early visitors.
You will see trees with green bark and amazing yellow flowers in the spring. This is the Arizona state tree, the Palo Verde:
Palo Verde in the spring
Do you wonder what it is like to live in the desert?
We have lived here for decades and this website is all about the cool stuff around the SE Valley of Phoenix. The largest city in the SE Valley is Mesa Arizona, think of it as the 8,000 pound "cactus" in the room. Other SE Valley communities include Gilbert, Chandler, Apache Junction, Queen Creek etc. See a map of Phoenix and the SE Valley showing these cities below:
Map of the Southeast Valley & Mesa Arizona
Here's some cool stuff for you on this website:
"Must do" in Arizona and the Southeast Valley
Remarkable places to eat good food
Fun things to do
Guide on what's remarkable
Superstition Mountain
Nearby lake and water recreation
Mesa Arizona Vacation and Southwest Vacations
Tips on how to beat the heat
local Oranges, Peaches and Olives


What else are you looking for?
Check Google site search:

---