Broadway Palm Dinner Theater
Now Silver Star Theater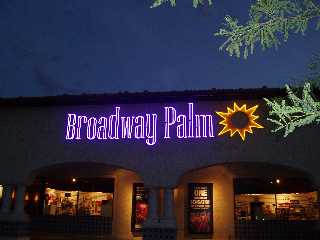 The NEW Silver Star Theater replaces the Broadway Palm Dinner Theater.  They feature live musical entertainment with different themes by a group called the Rhythm Cats.
The music shows from the Rhythm Cats range from Rock & Roll, Diner, Country, and Vegas. They even have a Christmas show and a special version of A Christmas Carol from Dickens.  Then after the New Year Eve's Special they have a Valetine's, Country and Freedom show.
The bar opens at 4:00 and the buffet dinner at 5:30 'till 7:00pm.  The music and dancing is from 6:15pm to 9:00 pm. The music show starts at 7:30pm.
They also have a summer schedule for people that live here year around and want a fun dinner theater experience.  They call it Sizzlin' Summer Nights and you can get more information here: https://silverstartheater.com/sizzlin-summer-nights/
The buffet dinner looks like it is yummy.  For a look at the menu see: http://silverstartheater.com/dining/
A lot of the information below belongs with the former theater which featured plays.

Let me ask you this, have you ever heard a tune and wondered where it came from? Have you ever wondered about some of the titles of plays and what they were all about?
Aida. What is that all about?
Singing in the Rain is easy, but Aida?
It's fun to experience live theater and then you can discover what the story is about. And sometimes it takes more than one time too. I remember the play Les Miserables and couldn't figure out what was going on until I saw the movie.
Most of the time it's easy to follow along and enjoy. The surprises are delightful. Like when you hear a familiar tune and now you know the play where it came from!
The Broadway Palm TOP 10 shows have been:
1. Fiddler on the Roof
2. Show Boat
3. Gypsy Rose
4. South Pacific
5. Annie Get Your Gun
6. Singin' in the Rain
7. Guys and Dolls
8. West Side Story
9. My Fair Lady
10. The Buddy Holly Story

They say you shouldn't judge a book by its cover. Can you judge a play by its title?
You could be in for a pleasant surprise. Some of the most enjoyable plays at the Broadway Palm Dinner Theater were the "Patsy Cline Story" and "The Full Monty." You be the judge. And you never know...
Broadway Palm stage and dining tables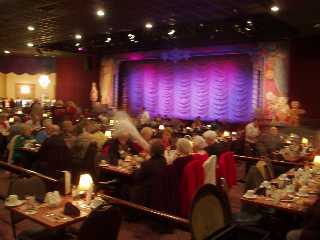 Start your evening out right with buffet dinner starting with salad, hot main courses, and then dessert. Ahem, even the sugar free pies are mighty enticing! Dinner is optional too. You can come just for the play and sit in a chair instead of a table, ticket prices are lower without the dinner option.
When you settle into your table with your friends and family the excitement begins. Around 7:30pm, the play starts. Some actors will make announcements. Does anyone in your party have a birthday or anniversary?
The play starts and there is one intermission. The experience ends around 9pm or shortly thereafter.
Here's the best part. You just spent a delightful evening with what we call "quality time." Beats the TV sleeping pill every time.
If you get there early you can retire to the bar area for some adult beverages. There also is a comfortable waiting room by the ticket office.

Broadway Palm bar and waiting areas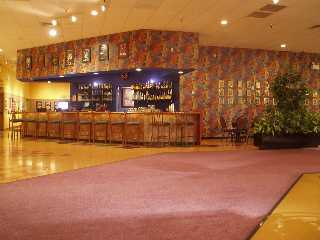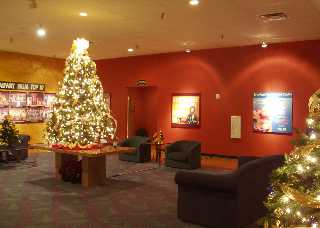 Broadway Palm Dinner Theater
Now Silver Star Theater
Where can I get more information?

The Broadway Palm Dinner Theater now Silver Star Theater is located in a strip mall on the corner of Brown and Higley at 5247 East Brown Road in Mesa. Phone (480) 288-0300.  Check their website for the latest show reservations, times and more:  http://silverstartheater.com

There are lots of parking spots and they are well lit so you can feel safe going to your car when the play lets out.
Another fun dinner musical show east in Apache Junction try the Arizona Opry Dinner Show.
See map below.
---
Return from Broadway Palm Dinner Theater now Silver Star Dinner Theater to Mesa-Goodlife
Return from Broadway Palm Dinner now Silver Star Theater to Theaters