Barleen's Arizona Opry Dinner Show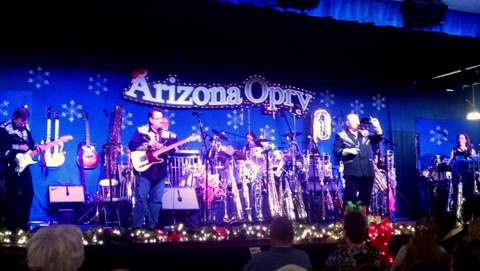 Barleen's Arizona Opry
Gramps called us about a place called Barleen's Arizona Opry Dinner Show. Said it was really a lot of fun too! We were a little surprised that we had never heard of it. 
Besides, what is opry?  Is it musical like a Lawrence Welk show?  Or something to do with opera?
The day finally arrived.   He got the tickets, and we drove.  Picked Gramps up and headed out to Apache Junction.  It is real easy to find, see the map below.

Do you need cowboy boots and wrangler outfits to fit in?  Nope. Just regular Arizona evening wear.

Showed up, and there were the usual retired people that you'd expect to see.  Saw a couple guys in shorts and T- shirts.  Looked frigid but maybe they were from Canada and this was warm.  The desert weather can be cold at night in the winter in Arizona.
There were some groups of the unretired too.  Dressed up like they were going to a fun party.  Saw lots of tall cowboy and cute cowgirl types.
Well enough about the fans, how about the dinner?
You sit down at a long table.  And what is starin' at you right away?  A real fine lookin' piece of chocolate cake that's what.  Yu-ummm. 
Looked around and noticed some other people were nibbling at it and shore enough knocked that cake off pronto.  One little itzy bitzy bite at a time. Then feeling a little guilty because the main course was yet to be served, had to clean up the little chocolate crumbles mess and push away the destroyed plate and fork.  Couldn't find a place to hide the evidence either.  But if you leave your delicious chocolate cake sitting there all alone and untouched the guy next to you might look at it squinty and say with a grin--"You gonna eat that?"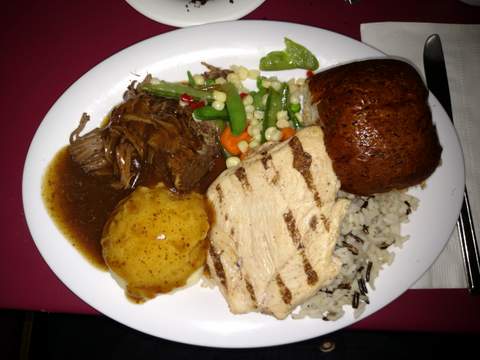 Arizona Opry Dinner
It's all good fun and before you know it the main course comes out of the kitchen. Now be real nice to the servers because guess what, they might be in the stage show!  I heard a couple ladies over-admiring this fine tall cowboy server with a black cowboy hat say "Well… there's a tall drink of water!"  Shore enough he was in the show.
Anyway the chicken and steak dinner was excellent.  Best description that comes to mind is real good home cookin'.
You will enjoy the dinner too because there is so much fun talk and people watching. The girls kept starin' at the cowboys and giggling.  Anyway got distracted in the conversation and wondering what the opry stage show was going to be like.

What's the Arizona Opry show like?

Take a look at the stage.  See all those musical instruments?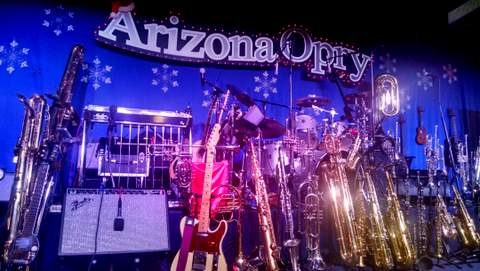 stage instruments
There's some unbelievable talent on stage.  Live.  Your jaw will drop.  Your eyes will be glued to the show.   It's a happy type of "opry" music, if you don't know what that is you'll just have to come here and find out.
And you'll hear some good funny jokes too.  Might be a tad bit adult oriented come to think of it.
Then the intermission starts.  The performers will walk around and you can get up and look around.  And maybe buy a few souvenirs.  And if you say hi and smile big at one of the performers/servers they might talk to you.  Big tall Cowboy Guy came by and regaled the ladies with all a cool guitar story. Bless his heart.
So was it a good time?  She said:  "Can't wait to go there again!"

How do you get to Barleen's Arizona Opry?
Just travel east on the 60 or Superstition Freeway and exit on S Tomahawk Rd, go north till you hit E Old West Highway.  Turn right and it's on the south side of the road.  The address is 2275 E. Old West Hwy. When the show is over you have to turn right and when you get to S Goldfield Road you can get back on the freeway.  See map below.
For more information and tickets please visit their website at http://www.azopry.com/ and their reservation phone number is 480-982-7991.  There are all kinds of different programs that can be found on their website.  Be sure to make reservations because they get sold out.  There is a huge market for great live entertainment.

Here's a map of Barleen's Arizona Opry dinner theater:
---
Return from Arizona Opry to Mesa-Goodlife
Return from Arizona Opry to Theaters