Hale Centre Theatre
The Hale Centre Theatre is a cozy square format theater that will delight you. Why? You watch the live actors from four sides instead of down a distant tunnel like at the movies. All the seats are terrific and there is an intimate feel with the action below, or sometimes in the isles or balcony. You look down and see all the actors in the square stage below your seat.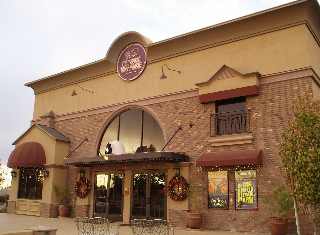 Hale Centre Theatre
Here's a picture of the inside of the theater. This view is from the highest part of the theater and you would typically sit a lot closer to the action: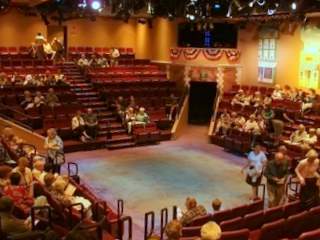 Hale Centre Theatre square stage
This relatively new theater in downtown Gilbert is an exciting addition to the Phoenix Southeast Valley. They opened in July 2003 and it still seems brand new.

What kind of shows will you see at the Hale Centre Theatre?


The best kind of musicals get played here--like the Music Man, a story about a lovable salesman who brings out the talents of people in a small town.
They have done shows like:
Lend Me A Tenor
The King and I
Charley's Aunt
April Ann
Beauty and the Beast
She Loves Me
Seven Brides for Seven Brothers
A Christmas Carol
For the latest show schedule see their website: https://www.haletheatrearizona.com/Online/default.asp

At the end of every year they do an exciting holiday show called "A Christmas Carol."
It's the timeless classic from Charles Dickens that has a life changing meaning for the season.
We have fond memories of the square style theater.
Always enjoyed the terrific plays at the sister Glendale Centre Theatre in Glendale California.
Great live actors with colorful costumes give you some cheery and exciting experiences for the whole family!
When the show is over be sure to congratulate the actors who will form a greeting line in their stage costumes.
It really is a nice personal touch to shake hands with them and just say thank you!

What about parking? Any great places to eat?


Parking is excellent and lots of restaurants are within easy walking distance.
For example, try out Joe's Real BBQ. Sometimes you can see throngs of people eat there because the food gets served cafeteria style and is ready right away. Then you can go back to the theater.
Joe's Real BBQ
Another dinner option within walking distance is the Italian restaurant called Oregano's Pizza Bistro. They seem to be crazy busy all the time so if you want to eat there be sure to allow for extra time.
Then there is a cozy place called Romeo's Euro Cafe and Coffee House. The Euro Cafe is within walking distance of the theater and if you have a some time for fresh cooked Mediterranean food give it a try.
The modern playhouse is easy to find in downtown Gilbert, please see the map below if you need directions! Call ahead for reservations because a lot of shows get sold out early. Phone (480) 497-1181.
View Larger Map
---

Return from Hale Centre Theater to Mesa-Goodlife
Return from Hale Centre Theatre to Theaters