Romeo's Euro Cafe

Next time you want a fine world class meal try the Euro Cafe in downtown Gilbert. Also known as Romeo's European Café & Coffee House. The food theme tends to be Greek and Mediterranean.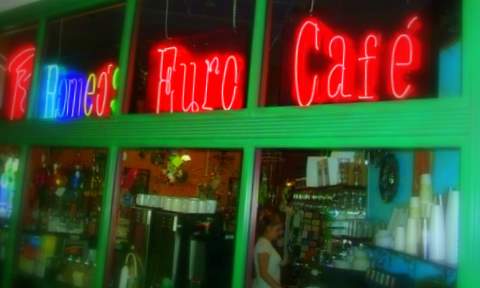 Here's the story on how we found this place. Many years ago our son was relaxing in the sauna room of one of those exercise places. This was when the café was located on Longmore in Mesa.
A couple of guys were raving about this cool new place called the Euro Café. So we figured out where it was and took a chance on a new place to eat.
Now it's a family favorite.
You walk in and don't really know what to expect. It's the anticipation of a new experience--kind of like trying a new ride at an amusement park. You know it will be fun, just not sure what it will be like.
First thing as you walk in you look at the shiny hand-made gifts and jewelry and artsy ornaments. Then you are escorted to a grey marble table, nothing too fancy. The fancy thing is the people and the tastes.
You may be surprised to read this but it's only partly about the food, it is a lot about the people. You can take your best friends and go there for a food adventure.

The food is consistent so if you liked something in the past it will be exactly as good as the first time. And you could be graced with one of those special people that like to be around other people like you.
For example, we met a "waitress" that was in her eighties that was smart and energetic just like your image of the dream grandmother from Europe. You have to be amazed at the energy of people. You feel graced when someone addresses you with kind things like "My dears" and other quaint salutations.
You get the special treatment from any of the waiters. For example, they will bring out small clean plates for you to place your eating utensils to keep them off the table. Nice touch.
Start out with a small dinner salad that has the house feta cheese dressing. Try out an appetizer like the Feta Dill Fritters filled with gyro meat, pine nuts etc.
Feta Dill Fritters
---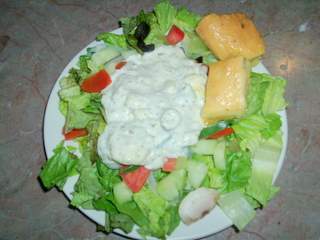 Feta Salad
---
Then order a lunch or dinner. Or coffee and dessert. Some of the best lunches are the gyro filled pitas.
It's exotic and yet basic cooked good food.
For example, a lot of the dinners are based on noodles.
But the custom sauces and fresh cooked ingredients are what make the food taste so spectacular.

If you want to really try something a bit out there, order the "goat shrimp." Not sure what they have to do with goats, but the name is something you can remember. They are these huge shrimps wrapped in bacon and baked to perfection, stuffed with feta and sun-dried tomato stuffing, and served over a small bed of noodles. The flavor is astonishing. And you best split these things, because you need to save a little room for things to come.
Euro Cafe Goat Shrimp
The dinners are king sized. Unless you are starving it is best to share a dinner because the proportions are plate filling, and remember to leave room for the European desserts.
The pastry chef makes all kinds of European baked desserts. Wonder what the difference is between Euro and American style desserts? She said there are a couple of things that make Euro Cafe desserts different from American desserts. One thing is our American cakes tend to have a Betty Crocker texture, and the other thing is European desserts may have booze in them. Ok, well maybe fine booze flavors.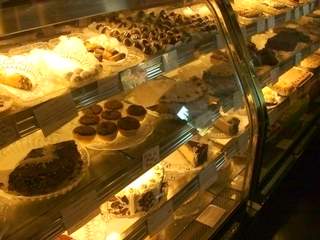 Euro Cafe Desserts


Euro Cafe location and contact info

Anyway, the Euro Café is located at the Heritage Court building in the back corner at 207 North Gilbert Road in downtown Gilbert. Phone is (480) 962-4224. Website is http://www.eurocafe.com/
They are just around the corner from the Hale Centre Theater and Joe's BBQ. See map below.
View Larger Map
---


Return from Euro Cafe to Mesa Goodlife
Return from Euro Cafe to World Food Tour