Schnepf Farms Pumpkin & Chili Party

The Schnepf Farms Pumpkin and Chili Party is a fun happening. You know it's the fall when the weather cools down and you can gleefully walk in comfort outside in a pumpkin patch. 
Go ahead and admit it, its great to be a kid again!  Chuckle at the tots feverishly calculating just what great pumpkin they can manage to haul off.  Too big and heavy?  Arms too short?  Settle for a just-so-ever-so-slightly smaller pumpkin.  It's ok. You did good when the kid looks up with a big grin.


Hmmmm which pumpkin to pick?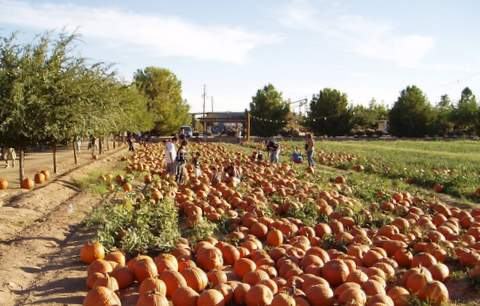 There are a lot of Kodak moments to take pictures of kids. There is even a pile of hay bales with pumpkins near the entrance for that special photo.
Admission is $16 at the time of this writing. Normally you can get tickets and a discount at Fry's so you won't have to wait in a ticket line.
A couple of ladies in line looked at the prices and gasped, "what the heck do you get?"  Well read on and you decide!
First stop was the train depot. This is a fun ride and goes all around the people areas and then takes a run out to the orchards.
At night after 6:30pm it turns into a dark spooky train ride. You never know what kind of creepy ghouls might jump out to scare you!  It costs 2 dollars per person. Most other rides are free.
Schnepf Train Ride Video
Then head out to the amusement rides just past the refurbished antique carousel.
There are a lot of rides for the kids. Like the Honeybee, flying farmers ride, and swinging lady bugs. There is a roller coaster if they can finish building it. Or try your skills at climbing on the rock wall.
Climb this rock!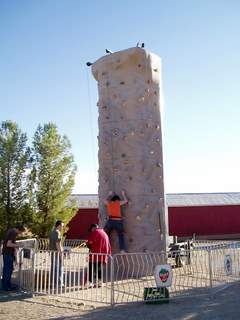 Sit down for a while at the Hillbilly Bob's pig races. Learn how to scream Soueeee!  The little piggies are hysterical as they race around the track!
Hillbilly Bob's pig races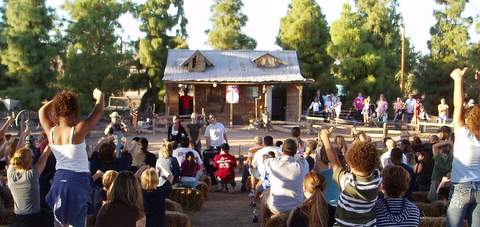 Go a little farther and you can check out the petting zoo and the road rally. The road rally looks like fun because you pedal a small race type car though some fun roads and tree lined trails.
There are two corn mazes. The first smaller one is just west of the amusement rides. Great place to run around between corn stalks. The other maze is farther to the west and you can best reach it with a hayride (free at the time of this writing).
Corn Maze
The hayride will take you on a fun bouncing trip through the orchards and stop in the middle where you can get out and look at a group of deer. Saw one with antlers too!
Hay Ride Video
Then hop back on a nice comfy bale of hay and the next stop is the giant corn maze. Every year there is a different picture of a celebrity. One year it was Steve Nash. Then get back on the tractor and return to where you started.
If you get hungry there are some nice outdoor BBQ type places to eat with plenty of shady picnic tables. You can order a chicken dinner with BBQ chicken, cornbread, corn, brownie and drink. Or chili dinner, hot dog dinner, or chili dog dinner.
When you leave the party the exit is on a back road that lets out to a busy intersection. Crazy Busy. Traffic has greatly increased with the amount on new homes in the area. Take your time getting out of there and watch out for distracted drivers.
You can usually get discount tickets at Fry's and save time waiting in line when you get there.
The typical hours are below for October:
Thursdays: 10am to 9pm
Friday and Saturday: 10am to 10pm
Sundays: 10am to 9pm
Phone: (480) 987-3100

There are a lot of new adventures too many to list here so the best way to get details, days and hours is check out their website: http://www.schnepffarms.com/
---

Return from Schnepf Pumpkin & Chili Party to Mesa-Goodlife