Rigatony's Authentic Italian
Mamma Mia! Rigatony's Authentic Italian is the place for some great fresh made food.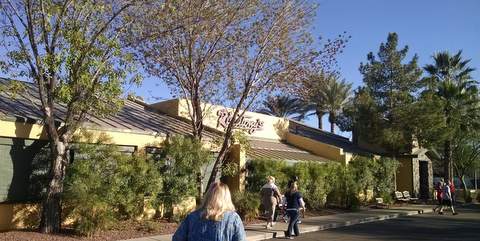 Rigatony's
What's so great about fresh authentic Italian food?
Well think back to the last time you nuked one of those frozen Italian entrees at work. Not bad, but not fresh either.
Fresh authentic Italian is a taste extravaganza.
First time we tried Rigatony's was years ago, when I caught a soft ball tossed into the bleachers at the Hohokam stadium with a free dinner offer inside. Must be some kind of Italian place? So we looked it up on the map and...
Turns out this place was just around the corner from Hohokam Park. Then they moved to Tempe, the old location is a pizza place now.
Just tried it out again for lunch and the experience is wonderful. Why? Well the wait staff is just so helpful and attentive. The décor is inviting, check out the patio! And of course the food.
Rigatony's Patio
We were offered a frequent eater card, a great idea if you come here often.  One down and 4 more to go for a free dinner!  Be sure to ask for your card, keep in mind that this offer is like everything--subject to change.

What's the food like?

The food is cooked fresh. The pasta came out cooked just right. "Al dente." They make it just for you. No soggy noodles served here.
Dinner bread comes out soft on the inside and crispy on the outside. Keep in mind that fresh authentic Italian takes time to prepare. Sometimes the bread just needs time to crisp up and the same with your dinner. There was more on the plate, but, uhh, we got hungry.

Crispy bread & olive oil
Then with the entree you get a salad bowl too.  Really is a big healthy serving too!

Entree Salad
One of their specialties is a plate called "Baked Rigatony."  Yum.  I ordered it with spicy Italian sausage. You can also get it with meat balls, chicken or broccoli.

Baked Rigatony
We didn't want to leave.  The patio is so pleasant, the weather was perfect so we ordered "Mocha" chocolate espresso.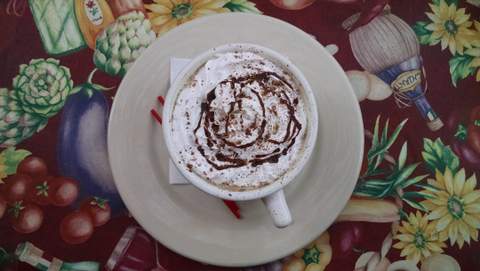 Mocha

Where is Rigatonys?

They are located at 1850 East Warner Road in Tempe.  Easy way to get there is exit the Warner off ramp of the 101 by the new Go Daddy building.  Their website is http://www.rigatonys.com/ and phone number is 480.899.1111.  See map below.
Rigatony's Map

---
Return from Rigatony's to Mesa-Goodlife
Return to World Food Tour