Organ Stop Pizza and entertainment too!

Are you hungry for pizza in a theater palace with free entertainment? Organ Stop Pizza is perfect with any of your guests and you won't spend a fortune either!
In addition to great tasting pizza on the menu, they also have a salad bar, pastas, desserts, and adult beverages.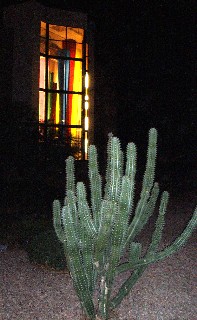 Cactus Pipes
Kids are perfect here because the sound level is high enough that even a crying baby will not be a problem. So its very kid friendly. There's even an arcade in the front in case they want to explore and run off some of the excitement.
You can also bring your parents and grandparents too because they will love the music. The songs played are from an era with great familiar melodies to the music. So you can expect all the familiar favorites of the past and some of the latest Broadway hits.
Not to mention the specialty music like the sound of a roaring locomotive steam engine etc. Or the occasional patriotic piece complete with the American Flag coming right out of the ceiling!
Patriotic Organ Music
Theatrics is big here. When the organ concert starts you will see the majestic console of this monster pipe organ keyboard rise and spin out of the center.
There are more than 6,000 pipes in the room, along with all kinds of other instruments. It has the distinction of being the largest Wurlitzer pipe organ in the world. Very fascinating to watch in action. You almost will forget about the pizza.
The theater pipe organ was originally installed in Denver Colorado in 1927.  The organ music would accompany the silent movies.  Then sound became part of the movie experience in the 30's.  The "talkies" took over and the organ was no longer needed.

View of organ console from side
Just look around and you will see pipes and instruments all hooked up from the top to the sides and back. We even saw bubbles coming right out of the ceiling for one song!
Where is Organ Stop Pizza?

Access is easy. Just go north off the Stapley exit of the 60 in Mesa and turn left at Southern. Phone (480) 813-5700. There are lots of parking spaces.

Website: http://www.organstoppizza.com/  There you will find more information about current events, hours, history and more. 

---
Return from Organ Pizza to Mesa-Goodlife
Return from Organ Stop Pizza to Dining Classics