Monti's La Casa Vieja (closed 11-17-2014)
My first memory of Phoenix food was a place called Monti's La Casa Vieja.

We used celebrate here when our son finished a grade in school. Now it's the perfect place to introduce your guests to some real Arizona history and some great steaks. Or have you own excuse for a celebration.
It's located at the north end of Mill Street right across from the old mill.
Yes, there still is the hulk of an old mill. See photo below.
It is located in the town of Tempe which is just east of Mesa.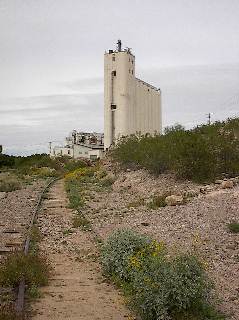 The Old Mill at Mill Street
Monti's La Casa Vieja means "the old house." It was built out of dirt.

Actually dirt in the form of mud adobe made from local earth and straw.
Seems primitive at first however it makes good insulation against the hot weather in Arizona.
This site was originally a ferry landing (Hayden's Ferry) which let people get across the Salt River in 1871. It was guided by wire connected to both sides so the current would not push you down the river. The site was developed and is part of the restaurant.
Grab a site map on your way in and look around while you wait for your name to come up for dinner. They keep a basket of them at the entrance. It's like a treasure map.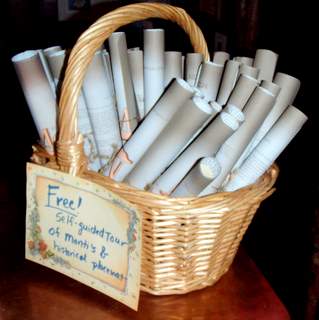 Monti's Self-Guided Tour Map
The kids loved the cool old rifles on the walls! There is a wall with four rifles that include an 1873 & 1876 Winchester rifle, and an 1891 Marlin Rifle. Look around and you can find more relics on the walls. It is better than a museum.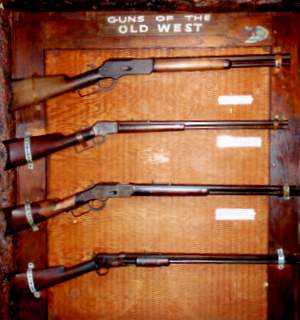 Monti's Historical Rifles display
Used to love the old photos of the Salt River floods. Check out the adobe walls in the Hayden room next to the bedroom where U.S. Senator Carl Hayden was born. Monti's is like a museum with steaks and a bar.
The building is low, rustic and rambling and the steaks are just the way you like 'em. A petit filet mignon prepared with baked potatoes is my favorite meal. Anyway, this building looks like a museum and the food is reminiscent of the grand old steak house.
Monti's patio and entrance
Times have changed and now land is at a premium and so is parking. Even when there are festivals nearby and the crush of cars produces gridlock, you can find plenty of parking behind this restaurant.
Here's how it works. When you pull into the parking lot the attendants may ask where you are going. If you answer "Monti's!" you park for free! No hassles. No walking two miles for food. They take your word for it and how refreshing that is! Nice to be trusted.
Or take the Valley Metro Rail there and laugh at the traffic! Get off at Mill street and it's a short fun walk.
And you are correct, this is the restaurant that serves baskets of Rosemary herb bread that they call "Roman Bread." Leonard Monti's Italian sister brought the recipe from Montecchiani Italy in the 1970's.