The Golden Corral Buffet and Grill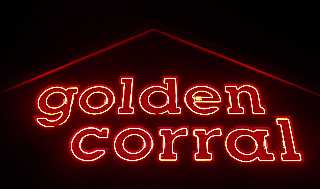 Wow! That's all we could say. We heard about the Golden Corral Buffet from a friend at work. Before that we never heard of the place. It came with a good recommendation. Hmmm, a buffet in Mesa that's remarkable!
First thing after you sit down is a waitress will ask you "how many fresh rolls would you like?" We looked at each other and said, "sure, how about four." Not sure what the big deal was until she brought out the rolls.
You get a basket of hot steaming rolls that just came out of the oven, not a bag. You can see the dough rising in the bakery if you are curious. Yes, its fresh made.

You get lots of honey butter too. The bakery is right behind the gorgeous chocolate station! We looked at each other then said "wow" again and went exploring!
Check out the food preparation!  They don't make the food in the back but right in front for you to see.  And there is nothing quite so nice as freshly cooked food. 

Now we lucked out on a Saturday because it was "steak night." They grill them right in front of you so you can grab one when it's just right-rare, medium, etc.
Their steaks are a lot thicker than the skinny Las Vegas "breakfast" steaks you may have seen. They are thick just like the ones you BBQ at home. We even saw some filets wrapped in bacon!
They have something special every night. And the menu and buffet items change all the time so you won't get bored. 

Here's the weekly rundown when we were there:
Sunday: Carver Night
Monday: Shrimp Night
Tuesday: Family Night
Wednesday: Mexican Favorites Night
Thursday: BBQ Night
Friday: Fish Fry
Saturday: Steak & Steak Night
Standbys for every day are the fresh picnic salads, soups, carved meats (check out the meat loaf too), pizza, and a chocolate station with pie shop.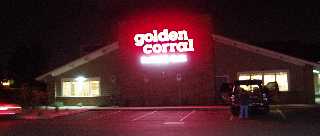 Golden Corral

Where is The Golden Corral in Mesa?

They are located at 1868 N Power Road in North Mesa between Brown and E Mckellips Rd. Phone (480) 985-6793. Go hungry and leave full. Save a little room for chocolate if you can. Their website is: http://www.goldencorral.com/
Check out their website for directions or see the map below for the one in Mesa.  By the way, the website has nutritional info on their offerings, just pick a category like Hot Buffet or Salad Buffet etc.

---


Return to Mesa-Goodlife
Return from Golden Corral to Sumptuous Mesa Buffets