China City Buffet

"How can they afford all-you-can-eat crab legs?"
The China City Buffet was a lucky find.
Here's the story of how we found this place.
We were driving around on Christmas eve looking at the terrific light displays in Mesa and started to get hungry.
Have you ever watched the movie "A Christmas Story" with Darren McGavin and the kid with the rifle? Well they had a mishap where a pack of dogs made off with their Christmas turkey dinner.
So they decided to eat at a Chinese restaurant with hysterical results. Anyway, we were thinking how fun would it be to find an Oriental place open on Christmas like the movie! And this place was open!
---
China City Super Buffet
China City Springtime
The first thing you will see is how nice the décor is! Notice the ornate cherry wood style chairs. The ceiling had clouds painted on it with a great big sparkling chandelier. And there are large pictures of China on the walls. Let me get to the best part, the food is terrific!
There's a Mongolian BBQ station and you can get custom fresh made dishes.
Then there is a sushi station with an unbelievable selection of artistic sea food. They make it right in front of you.  This is fun to watch, and they make it look so easy. 

Sea food! We couldn't believe they even serve huge fresh steamed crab legs! And the gourmet in the crowd says the taste was amazing. The crab legs were fresh tasting and not at all like the soggy salty stuff.
They have hundreds of items made fresh daily so every day can be a new adventure. Phone is (480) 807-6688.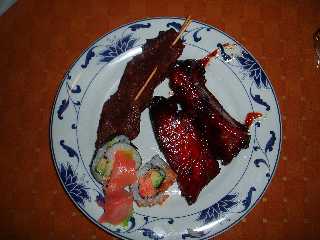 China City plate of food
Do you like Chinese food? There is a non-buffet that has a terrific lunch at the Golden Gate Chinese Restaurant. My favorite dish there is the Golden Gate Special Beef which is beef over honey roasted walnuts that is amazing.

Where is China City Buffet?

Anyway, this buffet is located in a new strip mall located at 2235 S Power Road #101 in Mesa, just south of Baseline. See map with reviews at the bottom of this page. Prices and hours can vary by season so call ahead at 480-807-6688 or check their website for more information: http://www.chinacitymesa.com/

China Super Buffet Map
View Larger Map
---


Return from China City Buffet to Mesa-Goodlife
Return from China City Buffet to Mesa Buffets