Amazing Jake's Buffet and Fun Rides
Did you know that Amazing Jake's Mesa has a buffet? They have a nice selection of fresh foods along with lots of rides. And yes, the buffet includes fresh baked pizza. They must be "amazing" because the parking lot is always full: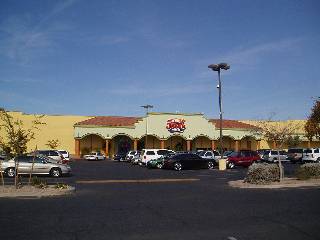 Amazing Jake's Parking lot
You came to this page for the food buffet. And a bountiful spread is yours for a competitive price.
The first station as you enter is the spuds, soup and macaroni pasta products.
Then there is a long salad bar with lots of fresh ingredients.
Lines can be long when it's the busy time on weekends so take your time.
You can grab a fast slice of pizza with little or no wait time since there are plenty to choose from.
And there is a whole wall of self-serve soft drink machines. The beverage wall is very welcome in the hot summer months when you get thirsty from running around!
There is a Disneyland-like quality to the place. And Disneyland prices, when you add up the total cost of the tokens. But if you want the premium experience for indoor food and arcades, this is it.
There are all kinds of fun attractions. Some rides may come with a half an hour line during busy hours.  But hey, when it's hot outside this is a great place to play!

Here are some of their attractions:
Bowling
Carousel
Mini roller Coaster

Grand Prix race cars
Rock Wall to climb

Laser Tag
Ticket counter with lots of prizes

Train

And of course Video Games!

The painting looks fresh and new, rides are fun and there are lots of busy kids. You will be happy to see that the bathrooms are clean, neat and brightly lit. There are security people and lots of help so it feels safe.
As you guessed this attraction is kid friendly. There is something for the big kids too; you can buy an adult beverage at the Terrace with beer and wine service. And there are lots of tables and rooms to sit and enjoy a "quiet" meal with friends.
You can reserve a private party areas, and check out the package deals on their website: http://amazingjakesmesa.com/

They are located on Baseline between Stapley and Gilbert. See the map below. Phone (480)926-7499.
Map to Attraction in Mesa

---


Return from Amazing Jake's to Mesa-Goodlife
Return to Sumptuous Mesa Buffets