Vito's Pizza & Italian Ristorante

Vito's Pizza Place is more than pizza, it's an Italian food happening! They do specialize in pizza so you have to try it out. There are lots of other delicious Italian foods too. We were driving around the north end of Mesa so stopped in for lunch. Here's the experience.
The first time you see Vito's you have to figure out where to park. You park in the back lot. Drive though a shady area with old world style decorative columns and frescos and pass under a second story addition. The parking lot is around the car wash if the close-by spots are taken. Then walk to the entrance.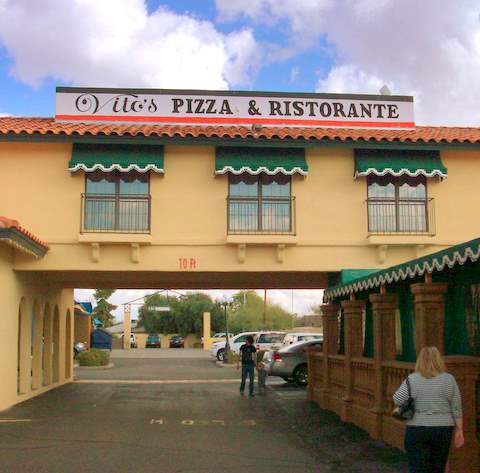 Vitos Pizza Place and Ristorante
You will walk into the reception area through some outside patio areas that will make you feel like you are dining in Tuscany on the porch of a Villa. As your eyes adjust to the place you will be greeted by a friendly receptionist.
The rooms are a warm color with hard wood or tile floors and nice green tables and booths. The rooms seem kind of small at first until you realize how many rooms there are.
Our waiter was a professional. He was dressed in a neat black outfit and was good at describing the details of Italian food. Think of a docent in an art museum describing an oil painting, only a lot faster. Real professional, and that is why your experience here will be upscale.
Think about it. Attention to detail is what the good life is all about. Compare this attention to an all-you-can-eat pizza place where you have to elbow your way to the food buffet and by the time you run back to your seat you forgot what the conversation was all about.
We asked the waiter for a suggestion, like what was a popular pizza? One of the favorites is the "Pizza Bianca" which has 5 cheeses with an interesting twist--there are pine nuts in the cheese. Wow, you think you are biting into a piece of roasted garlic but you mouth says this is a pine nut. Nice surprise! Can you imagine the tasty flavor and crunch in your mind yet?
Dinner salads are tasty too and come with all the extra details. There was a bonus item on ours, some anchovies! Hoooweee! Dinner salads are discounted if you get it with your pizza, so you can indulge.
Then around dessert time, our waiter suggested fresh Tiramisu. With coffee. Nice! Sometimes you want an excuse to sit and talk a while longer. Our waiter recited the ingredients and how the food was prepared etc. This is part of the fun of dining out and makes this restaurant different from say a chain Italian restaurant where the servers do a good job of, well, serving plates of food.
Vito's Tiramisu
Now you might be wondering, how is Vito's Pizza Place different from other upscale Italian restaurants in Mesa? This is a little like comparing apples to pizza but here goes.
First off Vito's Pizza Place specializes in pizza so you can count on a special pie with a fresh made thin crust. Not super thin, just right. This is the kind of place where you can take that special someone when it has to be better than "just okay." A place where you want to have some discussion and hear what the other party is saying without yelling to be heard.
Do you have a mob to feed? Vito's Pizza has many cozy rooms fit for your finest occasion, and lots of them. There is even a basement room for your special party.
Vito's Pizza is a mom and pop store that has a "home-made" feel to it. They have snappy well-dressed efficient waiters that are well versed in how the food is prepared.
Vito's is located in the north part of Mesa on 1947 N Lindsay Rd. Phone is (480) 832-3311.

Vito's Pizza Place Map
View Larger Map
---

Return from Vito's Pizza Place to Mesa Goodlife
Return from Vito's Pizza Place to World Food Tour