Elvis and the Superstition Mountain Museum

Howdy partner, how many times have you driven by the Superstition Mountain Museum but didn't go in? Curious about what you can see in there?
Is it worth the trip?
Well shucks, I reckon we passed by the museum many times before we finally moseyed in there.
Good thing too, 'cause it has lots of interesting things to gander at.
Also known as the Lost Dutchman Museum, it is located just east of Mesa in Apache Junction.
If you have ever driven on 88 (N Apache Trail) to Canyon Lake or the Roosevelt Dam then you have driven past it.
The museum is tucked away in the foothills under the majestic Superstitions just before the cutoff to the Mining Camp Restaurant. Here's a picture from the road.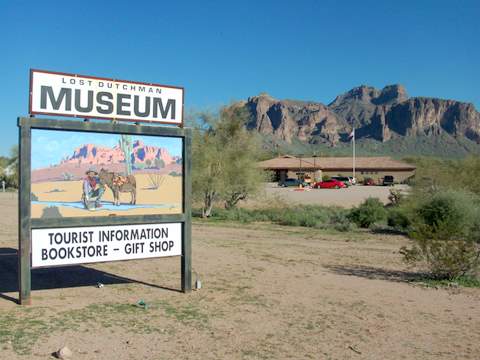 Superstition Mountain Museum
Did you know the Lost Dutchman Museum has information about the prehistoric people who lived in the area up to 9000 years ago? Including Elvis.
The Elvis Presley Memorial Chapel was rescued from a nearby place called Apacheland Movie Ranch. This chapel was featured in the movie "Charro" starring Elvis Presley.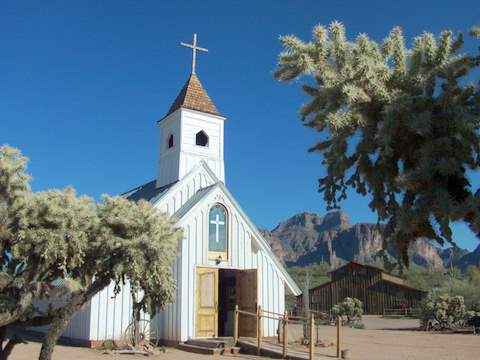 Elvis Presley Memorial Chapel
If you go inside the chapel you can see posters of movies on the walls. There's even a life size cardboard cutout of Elvis in the front of the chapel. You can arrange to get married here too. There is lots of parking for guests.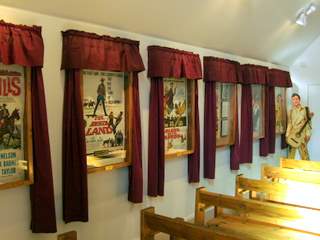 Evis Chapel interior with movie posters
Then there's a large barn that was also moved here from Apacheland that was featured in some western movies. Audie Murphy was in a movie called "Arizona Raiders." There was a gun battle filmed in this barn.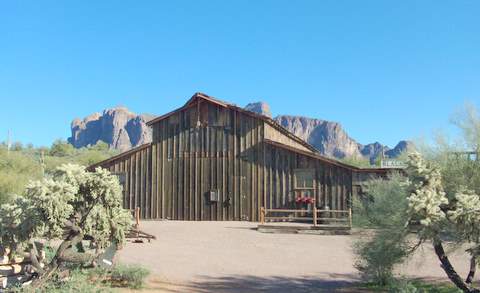 Superstition Mountain Museum Barn
Take a stroll up the hill and check out the mining equipment. There's lots of cool stuff including a giant ore crusher.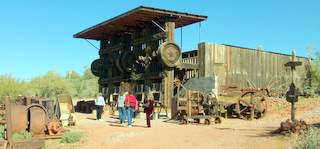 Lost Dutchman Ore Crusher
Then inside the museum you can see various interesting displays. Like where the Lost Dutchman's gold mine is located. All fifty places!
Can you imagine hearing an old hornswaggler say "PSST! I got this treasure map...." There is a wall display of weathered treasure maps and old books. It's so comical. The tall tales of gold make for some good stories though. Kind of like snake-oil yarns.
Say, talking about snakes, be sure to watch your step and stay on the paths because there are snakes and other varmints. Like the "rattell" snake. Nice spelling. Here's a sign we saw in the back lot of the museum grounds.
Watch out for "Rattell" Snakes!
Be alert even in the winter when you think snakes are dormant. Best advice is keep your kids from running around in the bushes unsupervised. But chances are you won't see any critters.
After all, according to a display at the Mesa Southwest Museum , your chances of getting hit by lightning are GREATER than getting bit by a rattlesnake. Get even better odds by staying alert.
Superstition Mountain Museum location and hours

Admission at the time of this writing is $5.00 for adults, except for special events-check their website below. Telephone is 480-983-4888. They are open every day from  9 to 4 except Thanksgiving, Christmas and New Year's. It's located at 4087 N Apache Trail Hwy 88 in Apache Junction, AZ 85219.  See their website for more details: http://superstitionmountainmuseum.org/

View Larger Map
---
Return from Superstition Mountain Museum to Mesa Goodlife
Return to Mesa Area Museums