Diamond's Sports Grille

(Sluggo's Sports Grill)

Is Remarkable for…
Where can you go to soak up some sports fun? Sluggo's in Mesa, that's where! The Diamond's Sports Grille is centrally located and you don't have to drive far for some food, fun and friends.
Sluggo's is situated close to the spring training at Hohokam Park, and in a wonderful part of downtown Mesa Arizona.
So it is the logical place to go before or after a game. In fact they advertise you can get a shuttle ride from 10:30 to 4 on game days.
We walked in for lunch on a winter day and were greeted with the sunny disposition of a smiling friendly waitress. She motioned us to a table where we basked in the electronic glow of flat panels displaying the latest sporting events. Everywhere you look there are games you can watch. They have oodles of satellite feeds so you should be able to find your favorite game.
Sluggo's now Diamond's Sports Grille
"The special today is a brat or hot dog with sauerkraut and fries, all for FOUR bucks!" So we looked at each other and said YES PLEASE! The special was tasty.
And get this, the brat bun was soft and fluffy fresh! No stale hard rolls here. I am partial to fresh buns because as a kid working as a bus boy at a country club, we had to steam blast petrified biscuits moments before serving them! I don't know why we were surprised at a fresh roll. Anyway, the brat was tasty, the kraut warm and crunchy, and the fries were as good as you can get.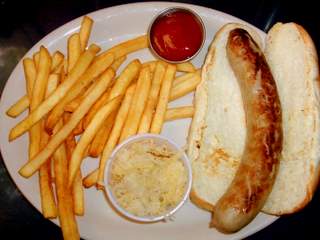 Brat and Kraut
Sluggo's was originally owned by the famous sports announcer Harry Caray, who exuded personality and attention to the fans. You may remember him as the nice guy with the huge glasses. Along with another announcer Steve Stone, they made this a must-see if you are here for the spring training in Mesa. Visit off season too and you can avoid the spring training sports crowds.
In January 2009 Sluggo's changed to Diamond's Sports Grille with a new owner. It has the same cook, same waitress, same menu and the same specials. What changed? A few new sports memorabilia items were changed but overall it looks about the same.
There are various sports represented, for example there is a giant square bar in the middle where people can practice lifting adult beverages. You may want to take them up on a shuttle or cab if you exercise a little too diligently.
Everywhere you look there is sports memorabilia. Check out the clear glass encased trophies with bats, football helmets, baseballs and signatures on the walls.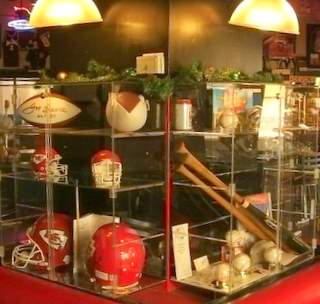 Sports Memorabilia
You might get lucky and see a sports star. You just never know who might be visiting. Check out the autographs on the walls.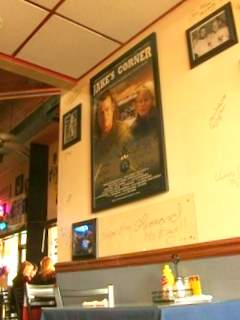 Pictures and Autographs


Where is Sluggo's or now Diamond's Sports Grille?

Here's a map if you need it.
They are located at 161 N. Centennial Way in downtown Mesa close to Hohokam Park. Phone is (480) 844-3888.  Website is http://www.diamondssportsgrille.com/
It gets crazy busy at times, especially during the spring training events. And now you know why Sluggos or now Diamond's Sports Grille and Bar is remarkable.
---

Return from Sluggo's to Mesa-Goodlife
Return from Sluggo's to Spring Training