Pueblo Grande Museum Phoenix
Would you believe the Pueblo Grande Museum Phoenix has ruins from over a thousand years ago?  


We see modern buildings and transportation systems like the metro and discover there is ancient history nearby. 
Oh so you thought Arizona was just invented and paved over desert?  Well this museum has ruins from a civilization that could date back to 450 A.D.!  The sign looks boring but don't let appearances fool you.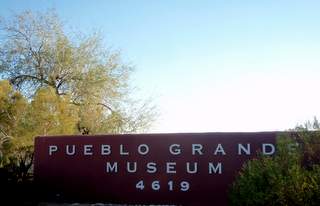 Pueblo Grande Museum Sign

Where is the Pueblo Grande Museum Phoenix?
If you look south out the window of the Metro on a trip to Phoenix just West of the Tempe Town Lake you can see the walls of the museum.  Look south.  To the north is a tall landmark of the Crowne Plaza Phoenix. Not much to see of the museum from the street.  There is a metro stop right across the street at 44th and Washington.

Ever wonder what's in there? Walk back from the entrance and you will see the indoor museum with all the exhibits then you can wander around the Hohokam ruins.  You walk through ancient history.  Eerie when you think about it.

The museum shows how the ancients lived and existed.  And it's really an interesting place where you can spend some time seeing something new.

First impression you might have is that it seems really odd that people could live in the middle of the desert.  But they thrived here for over a thousand years.  Probably because of water and lots of sunshine.


Pueblo Grande Museum
Water from the Salt River used to flow year around before the dams were built.  The ancients used canals to divert water to all the agricultural acres.  The canals are still walkable in places.  You can see some large canal ruins at the Mesa Park of the Canals.


Mesa Canal
The water from the canals was used in agriculture where they grew corn, cotton, beans etc.  You can even try grinding some corn in the rocks and make some corn meal. Fun for the kids!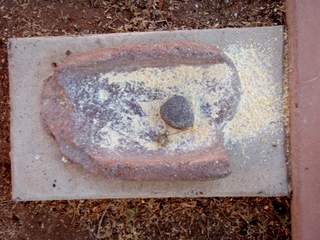 Corn meal grinder
Corn meal sign
Then the museum yard has some replicas of the homes called pithouses  that you can walk in.  Check it out:


Pueblo Grande house

Best time to visit is when you have an hour or two especially if you have a round trip Metro ticket.  Like if you get off early for jury duty downtown. Get off and hop back on when you are done.  Here are the hours.


Pueblo Grande hours

Map and website

Here is their website for more details: http://www.pueblogrande.org/visit/

---
Return from Pueblo Grande Museum Phoenix to Mesa-Goodlife
Return from Pueblo Grande Museum Phoenix to Valley Metro Rail