Phoenix Art Museum

The Phoenix area is paradise for world class museums, and the Phoenix Art Museum is one of them.  Check it out often because the exhibits change. A lot of the art gets changed out every four to six months so the light doesn't fade the materials.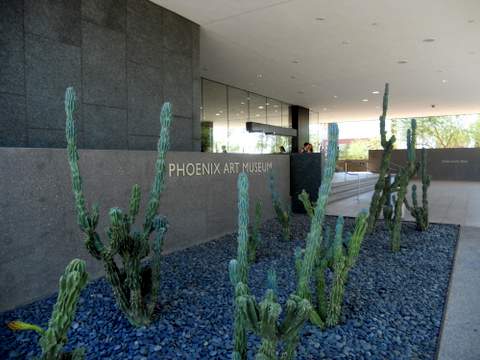 We are lucky to live in a place where there are world class museums, as some places in the country just don't seem to have the attention to upkeep and budget.  The attention to detail here is amazing. Notice how clean the windows are in this museum, sparkling floors, and new exhibits all the time.  And lots of volunteers to help you.
The museum exterior looks like a giant concrete bunker at first.  Keep in mind this is Arizona and all the light and heat is not beneficial to art or humans.  You will appreciate the cool temps inside and spacious feeling. 
And there are some cool views from hidden lookouts that you can check out on the inside.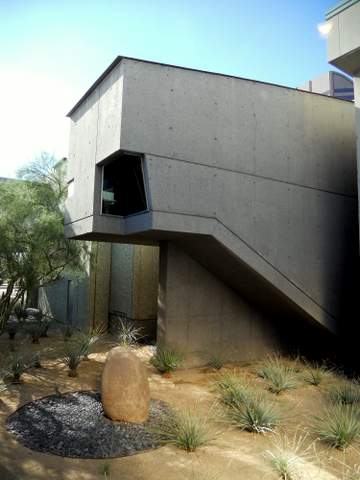 There is all kinds of art for everyone.  There's the old traditional realistic oil paintings to modern art.  We saw some modern art where there was this big mound of green candies like you get at the candy store, anyway you can reach into the pile and help yourself!  That's how to enjoy modern art!
One of the coolest exhibits is an inky dark room that had what looked like multi colored fireflies in every direction.  Look up, down, and sideways and you get this infinite view of colored pin point lights!  A little disorienting because you have to figure out where the walls are until the eyes adjust to the darkness.  Walk slowly to appreciate the art and save your bean.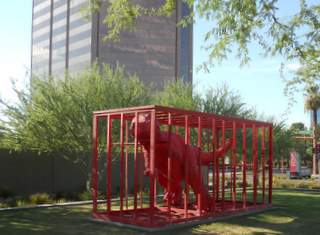 Then out front there is a big red dinosaur inside of a red cage.  Looks like a giant kid toy.  And like just about everything, it gets deeper when you investigate.   There is a "Made in China" phrase on the dinosaur by the Chinese artist with a plack on the ground that explains it. 

There is a museum store where you can buy artsy souvenirs and books.  Here's a pic: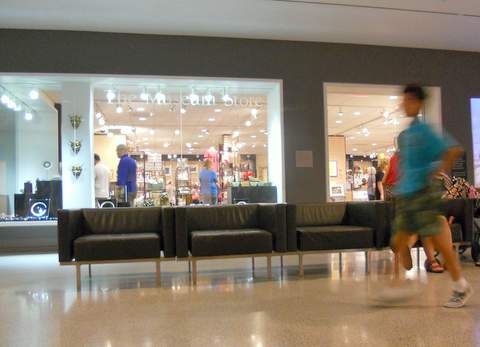 Phoenix Art Museum hours map and fees
For more information here is their website: https://phxart.org/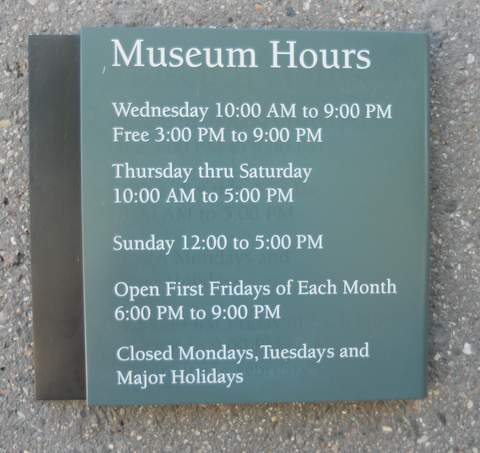 Phoenix Art Museum events
They have special events from time to time so you get to see a variety of things.  Over the last 50 years there have been hundreds of fantastic exhibits. 
Next time you want to take out mom, go here.  We did and are forever grateful because we got to see the art of Monet, one of our favorite past events.
Check their website to see what's new:
http://www.phxart.org/exhibition/current


Is there good parking?
The building has plenty of parking on the north side.  And parking was free when we were there.  That reminds me... 


Can you get here via the Metro?
Skip the car and take the Metro!  The McDowell/Central station is right next to the museum.  And if you get hungry there is a great fun restaurant right across the street called the Spaghetti Factory.  Or you can eat at the museum restaurant called "Palette."
---
Return from Phoenix Art Museum to Mesa-Goodlife
Return from Phoenix Art Museum to Valley Metro Rail