Luminarias!

Wow! The Luminarias experience at the Desert Botanical Garden is a fun holiday adventure. 


Get ready for a holiday JOLT! 
What do you get for the price of admission?  Is it worth it the trip? 


Here's what makes this a holiday special event.
Think of it like a musical concert.  Or a delicious feast of mini concerts.

Lots of intimate private concerts that you can find hidden away in different parts of the garden.  Go elsewhere and you could easily spend your admission listening to just one of them.  This is a smorgasbord of romantic music and lights and holiday good cheer.


What kind of music can you hear and watch? All kinds!  Here's a sample for the 2013 season:
Dickens Carolers and traditional Christmas music

Flamenco Guitar

Flute

Handbell Choir and Christmas music
Jazz

Mariachi

Unexplainable music that you have to hear to believe

Amazing is the variety of the music.

Walk close and you can hear the heavenly notes of a harp, seems to be there most years.  Not sure how the harpist kept her fingers warm enough to play but we sure enjoyed it.
Harp Music at Luminarias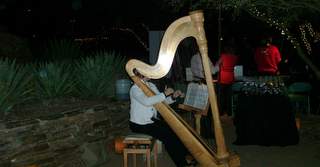 Christmas music

I overheard a couple walking away from a jazz concert saying they wished there was more Christmas music.  There is if you know where to look.  Get a map when you enter and you can find all the venues.


You can sit inside a warm room and listen to an ethereal hand bell choir.  The night we were there they featured the Lutheran bell choir.  They have other choirs too so check the Desert Botanical garden website below for schedules. 

They played the Christmas music that you love. 
Handbell Choir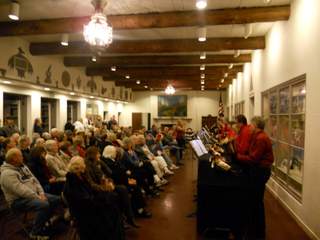 There were also Dickens dressed singers that will sing familiar Christmas carols.  Couldn't find them but heard them from the distance.  Too busy walking and gawking at this wonderland.
Mysterious music

We were wandering along one of those lit up walkways when you could start to hear the haunting buzz of something like bagpipe drones?  Sounded really strange and unearthly.  Couldn't imagine what it was.  So we followed our ears as the music got louder and stranger. As we got closer….

There was a small gathering of people.  All in awe of the alien sounds of far away lands.  Unearthly and enchanting are some words that could describe it.

This was way out in the boonies area past the butterfly tents.  Turns out this music was from some from an artist named Poranguí.  You have to see it to believe it.  We saw the show twice it was so fascinating.


Poranguí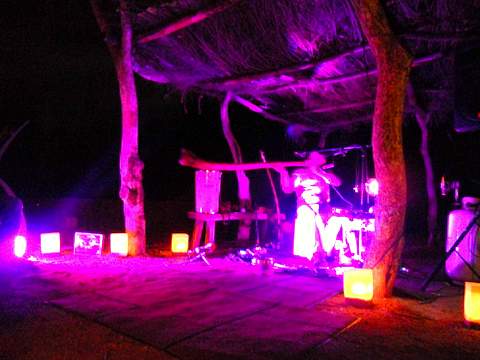 Best description I could think of is aborigine Australian Brazilian ethnic music.  He calls his music "Acoustic World Soul."  This guy could make a trash can and a two by four sound like music!

Do you like that Australian aborigine sounds of a didgeridoo?  That strange buzzing tube?  Well Poranguí can play without taking any breath interruptions and can toot the thing for long minutes.  He called it "circular breathing."  Sounds hard to do.  Really enchanting when you close your eyes and just zone in.



Jazz Music

Then there are the usual jazz music ensembles like…


Jazz at the Luminarias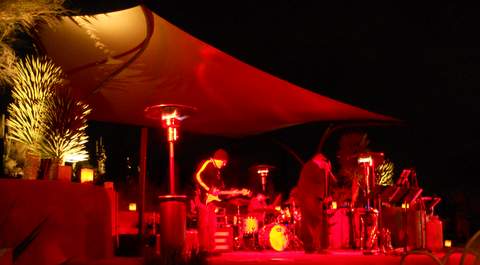 Anyway there just isn't enough time in one night to experience all the music that is going on here.  It's like a buffet, just too much goodness in one place. 



And there are things to see!
Luminarias are brown bags filled with dirt and a candle.  So is that all there is to see?

Adventure walk through the rolling trails and just be amazed at all the thousands of Luminarias.  Someone had to light every one of them.  Unbelievable how many there are. 

You will see staff and volunteers everywhere so you can most always get help to find your way.  Even at night, you won't get lost with all the volunteers to help you.


What else can you see?  How about Chihuly art?
Chihuly

You can see some really cool looking glass blown creations by Chihuly. 
From a distance we saw these bright strange looking green desert plants.  Look closely and they are really intricate glass blown structures. 
Chihuly displays are embedded into the gardens like strange alien life forms. 
Beautiful and unearthly.

It's a one of a kind place and there really is nothing else quite like it in the world.
Does it get cold?  Sure does! How to dress

Cold in Arizona is anything under 80 degrees.  Seriously, the nights can be chilly so bring lots of warm clothing.  Hat and gloves come in handy and you'll be glad you brought them.  Most of the music is outdoors.  From time to time you can find a patio heater or glass pit that is giving off welcome heat.

Best idea is keep moving from one music venue to the next.  That way you can stay warm by walking energetically. 


Is there good parking?

When you first get to the ample parking lots, they are lit up with lots of holiday lights.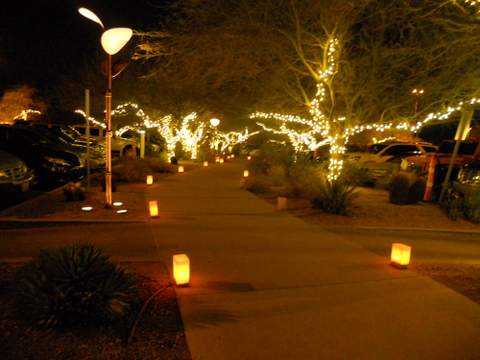 Parking is good because there are more days to enjoy the Luminarias.  Used to be just on weekends.

That means there are fewer crowds so YOU can enjoy the experience without feeling crowded and standing around in lines. 
Ok, I'm going!  Where do I get more information and buy tickets?

Here's a link to the website for dates, schedules and more information.  Check the web when you schedule your visit because different musicians play on different days and are subject to change.  Make sure your favorite group will be playing the night you go! 

www.dbg.org/events/las-noches-de-las-luminarias

---
Return from Luminarias to Mesa-Goodlife

Return to the Desert Botanical Garden and map