Dine at the Compass Restaurant and see all of Phoenix

(Compass Arizona Grill)

The Compass Restaurant Phoenix is a glamorous place with a view that will slowly move you around the top of the Hyatt Regency Phoenix Hotel in downtown Phoenix. It's billed as the only revolving restaurant in Arizona. You can take your best guests there and be assured of a spectacular experience.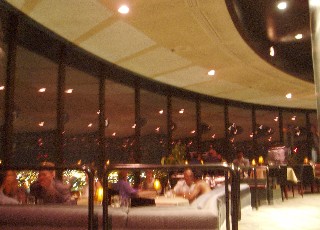 restaurant interior
Parking is easy because this is a hotel, the Hyatt Regency Phoenix. You can get valet too if you want less hassle.
Or better yet take the Metro Link and get in some healthy walking.  Downtown Phoenix feels safe and it is a fun adventure to walk there after a rail trip.  Dress is business casual so you can fit right in on the rails and at the restaurant.  
Coming from Mesa you could get off on the exit by Symphony Hall. Then go back to Mesa on the Jefferson station between the basketball stadium and the baseball stadium.

Watch the sun go down if you get there early. The views of Phoenix at night are fascinating. There's nothing quite like it. You'll be talking with your guests and the next time you look up there's a new view!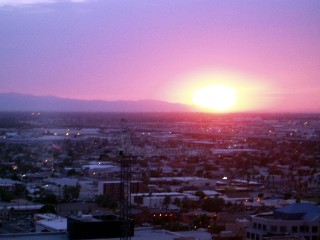 Sunset view
The food experience is gourmet. The waiters are attentive but not overly so and leave you alone long enough to talk in peace. The food presentation is beautiful, and every plate I saw looked like a work of art.
If you want the complete experience budget about $100 per person and this includes adult beverages and dessert.
There are plenty of wines to pick.
The dessert I like just about the best is their crème brulee. You get this little gem served in a white curved tray with three troughs and different flavors. I'll take a picture next time I go there. It's sinfully good. 

There are a lot of fine dining opportunities in the area.  The nice thing about downtown Phoenix is how easy it is to reach from Mesa now with the Metro Link.  
Compass Restaurant Information

Keep in mind there are only so many seats so plan ahead. Make reservations at the restaurant, especially for the big holidays like Mother's Day etc. It is located on the top of the Hyatt Regency Phoenix at 122 North 2nd Street. Phone 602-440-3166.  Website: https://www.compassarizona.com/
---

Return from the Compass Restaurant Phoenix to Mesa Goodlife
Return from the Compass Hyatt Regency to Remarkable Dining